Inspired by a colleague's request to write about birthdays, I came up with a few thoughts. Here I am in my 60s, and not quite sure what it means—but not worried about it.
Supposedly I'm old—but I don't feel old. Of course, it helps that I seem to still be mentally intact and involved, can still look after myself, and continue to be able to do the work I love. I think it also helps that I have a marvelous network of long-time friends who keep me feeling young. I think that is because we keep our wacky childhood and high school memories so fresh by staying close and seeing, or at least communicating with, each other fairly often.
Even if I did feel old, why would that be a bad thing? I've survived more than just the passing of the years. I survived a wide range of crises over those years, and that's something to be proud of. It's why I don't let myself be pressured into coloring my hair when I go to the salon for haircuts (well, other than a splash of purple!): I earned every gray or white hair and see no need to cover them up.
I know how I got here: born, raised, lived; still living. That's a good thing. As my mom used to say whenever someone complained about the infelicities and challenges of increasing age, "Consider the alternative."
Some aspects of all these birthdays are a nuisance—my knees and hips have started to creak a bit and make it difficult to get up from a chair or the bed, and to negotiate stairs, but . . . consider the alternative.
Getting older does mean dealing with loss. Both of my parents have died, and I miss them constantly, but . . . I had my dad in my life for more than 40 years and my mom for 60; that's a lot longer than many friends can claim, and those were all wonderful, loving, supportive, fun years—also more and better than many people experience. And it's natural for parents to go before their children. When life takes the opposite direction, it's unimaginable.
My beloved husband, who was 12 years older than me, died last year and I miss him every moment of every day, but . . . we had 30 delightful years together, which is—again—more than many people get from their relationships and marriages. He was a tough guy (a retired steelworker; my man of steel!) who accepted the limits of aging with surprising grace; rather than complain ("Consider the alternative!") or give up. He focused on what he still could do. His attitude toward birthdays, aging, and increasing fragility was admirable: "I can't do what I used to, but I'll find a way to do as much as possible. If I can't walk on my own, I'll use a walker so I can still get around and go places. If I can't carry all my cameras, lenses, and gear, I'll switch to digital. If I have health issues, I'll reconfigure my favorite recipes so I can still enjoy some of the things I love to eat. . . ."
Being "old" has its advantages. I qualify for Medicare, so I save a bundle on medical insurance, and can start getting my Social Security benefits whenever I'm ready to stop working (if that ever happens; I do find retirement hard to envision, but that's because I enjoy what I do, and not—mainly thanks to my financial genius of a mom—because I have to keep working). And I get a kick out of senior discounts, even though I don't see myself as "senior." My recollection, although my brothers disagree, is that my dad loved using his 60-plus discounts; he said he deserved them, and I concur.
I see every birthday as a type of new year, so I have more than January 1 as a moment to reflect, refresh, and sometimes revamp. A birthday is an opportunity to celebrate still being here and to think about what new things I might do to stay as sharp, engaged, and active as possible, both physically and mentally; socially and professionally; intellectually and maybe even emotionally. This year, I decided that my birthday presents to myself would to be more creative and expand my interests beyond activities related to my work life. I've started playing around with painting and glasswork—neither of which I do very well (yet), but who knows where these might go!—and am looking into going back to a long-ago hobby of ceramics.
These projects are birthday gifts to myself that I think will take me into increasing age with increasing creativity and continuing mental and physical agility, a sense of joy and achievement, and appreciation for survival on many levels. They are my ways of fulfilling the concept of "I'm not (just) getting older; I'm getting better." I am trying to embrace getting older and having more birthdays. After all, "consider the alternative."
Here's to happy birthdays for all of us, and graceful, grateful perspectives on getting older!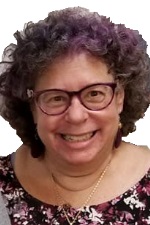 Ruth Thaler-Carter has been a full-time freelance writer, editor, proofreader, and desktop publisher for more than 30 years. She has been published locally, regionally, nationally, and internationally in, and does editing and proofreading for, publications, websites, service firms, and businesses. She sold her first freelance articles when she was still in high school. Renowned as a skilled networker, Ruth is a newsletter editor, publication author, speaker/presenter, blogger, program host or planner, and chapter leader. In 2006, Ruth launched the Communication Central "Be a Better Freelancer"® annual conference to help aspiring and established freelancers find greater success and connections with colleagues. Ruth received the Philip M. Stern Award of Washington (DC) Independent Writers for service to freelancers; the Writers and Books Big Pencil Award for teaching adults and contributions to the literary community; EFfie awards for writing, editing, and newsletters; and the APEX award for feature writing. Ruth was also the IABC/DC Communicator of the Year.