One of the common pieces of wisdom that always floats around the freelance-o-sphere is that you should always be marketing. Market when you're slow, market when you're busy, market when you're in Goldilocks territory. But let's be real: Do you really feel like doing that when you're swamped with multiple deadlines during a 60-hour week?
I sure don't.
The key is to be as visible as possible to potential clients when you're not actively marketing, while being prepared to ramp up when you need to put in the effort.
At the risk of stating the obvious, the foundation of everyday visibility starts with a well-designed website with all of your contact information, as well as a comprehensive, professional-looking profile on LinkedIn. Depending on the professional associations you belong to (such as NAIWE!), you might have several locations where you can put your skills and experience into the public sphere.
But then what? Alas, just because you've done the basics doesn't guarantee anything is going to appear in your inbox. When you've got the time and energy, where should you apply your efforts? When I'm looking at my calendar and seeing an upcoming gap, these are my go-to strategies to ramp up my visibility:
Reach out to existing clients. As a rule, I use any excuse I can to make contact with the people I already have good relationships with. Every time I get a payment, I send a personal, handwritten thank-you note. I also send a note when I receive a referral. If I see a story on the web that might be of personal or professional interest, I'll forward it. (The website Help A Reporter Out [https://www.helpareporter.com] is a terrific excuse to contact a client who has expertise in a given topic.) In any case, it's amazing how often those small gestures will generate an email or a phone call.
Reconnect with older contacts. I keep a folder named "dormant" on my computer, where I move old client jobs after a year or so of inactivity. Not all of them are people I'd want to work with again—but for the ones who are, it's a matter of sending a quick note to reopen the lines of communication. Maybe I saw something about their company in the news or heard about a trend in their industry. If they're in town, I'll offer to buy them a cup of coffee or lunch as a chance to catch up.
Play rolodex roulette. In addition to being part of the everyday visibility part of the equation, LinkedIn is a treasure trove of past coworkers, many of whom have moved into positions where they might want to hire you. (If nothing else, it's a good excuse to swap stories about the good ol' days.)
Tap connections in my mastermind group. This is a long-term investment in my business, being part of a diverse group of businesspeople that meets once a month. We don't directly solicit business from each other, but we're open and honest about how our businesses are doing—and we're all interested in helping each other succeed.
Dial up my cold-contact activity. Finally, I'll spend a few minutes each day researching categories of businesses that I have the best success with, such as graphic designers, web designers, and trade publications. Then it's a matter of crafting targeted emails to connect and see if we might partner.
None of these steps are difficult, painful, or expensive, and all of them have a much better likelihood of producing a decent project than trolling through a bunch of bidding sites. It hardly even feels like marketing if you're authentic about why you're contacting someone.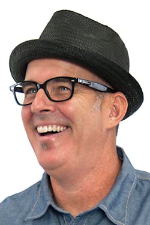 Jake Poinier made the leap into freelance writing and editing in 1999 after a decade of positions in the publishing industry, giving him key insights from both sides of the desk. As the founder and owner of Boomvang Creative Group, he has worked with a diverse array of Fortune 500 and small businesses, consumer and trade magazines, and independent authors. Jake is committed to helping freelancers improve their businesses and shares his knowledge and experiences frequently as a speaker at industry conferences, through webinars, and on his blog.